Biplanes have struts (most of them do, anyway), and the Great Lakes offers plenty of opportunity to learn how to build them. There are no bracing struts on the tail assembly, but we have a whole collection of them in the landing gear assembly, the usual interplane (outboard) struts, and the cabane struts (which hold the upper wing in place). Let's build the cabane struts first.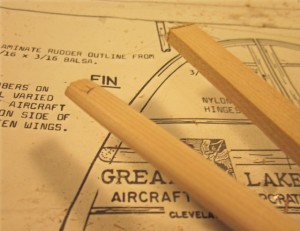 Here is a fully shaped strut section next to a piece of the 3/16″ x 1/2″ sq. spruce as it comes out of the box.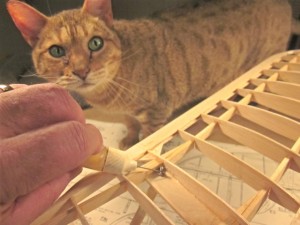 With everything else in position, I installed 2-56 hex nuts on the inner ends of the upper cabane screws. Here I am using a drop of machine oil on the end of each screw prior to locking it in place with a generous drop of thick cyanoacrylate…the oil will assure that I can remove each screw later. I could have used "blind nut" inserts instead. As usual, I can't get away with anything in my shop without feline supervision.