I finished the last work session on the B-17 fuselage by sharing my decision on the best way to go about sheeting/skinning the framework. Just so you know, what we're doing does not qualify as "planking"…that's a somewhat different process based on using lots of narrow strips to build up a broad surface. Perhaps we'll get the chance to examine that way of "doing closed balsa surfaces" in some future project.  Let's call what I began last time "sheeting". I started by sheeting  the nearly cylindrical base of the tail gunner's position using two short pieces of 1/8" balsa sheet "grain long" (along the fuselage centerline) so the wood will wrap easily "with the grain" around the curved structure without being forced. By choosing light/soft wood and wetting the sheets prior to attaching them I was able to keep them from splitting. I COULD have sheeted/enclosed the entire fuselage the same way, but as I explained before, this would have created a whole series of parallel butt joints along the length of the fuselage…stress cracks and failures waiting to happen. Instead, I finished each side of the fuselage with a single, long nose-to-tail sheet and ended the session with a snake's nest of clamps and tape holding them in place while the glue dried. With that done I'm going to finish sheeting the fuselage with shorter sections that will be easier to control.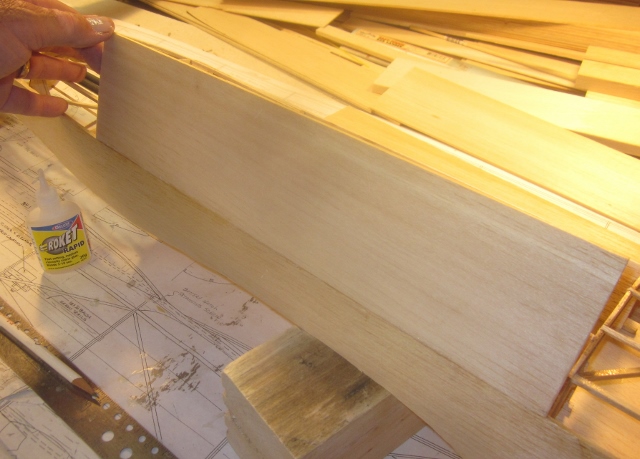 B-17-14-1       Off camera I cleared all those "tape snakes" away and chose the top of the fuselage above the wing…between formers F-4 and F-7…as the best place to work on next. What I'm holding is a piece of 1/8" balsa sheet cut exactly big enough to reach from the middle of the upper edge of F-4 (dividing the thickness of the former into two equal 1/16" parts) back to the corresponding mid-line of F-7. The plan is to attach the sheet panel to F-4 along the rear 1/16" edge of surface in order to leave the front 1/16" free to accept the 1/8" balsa sheet that will go in place there later. I'll use this same method of "splitting" the width of each former for the rest of the fuselage sheeting job. I have already measured and cut off the width of the panel so the upper (fuselage centerline) edge will bisect the top center stringer using the same logic. (Actually I have left a tiny extra bit of "width" on the sheet…wait to see why), and I have used a bead of Roket Rapid along the lower joining edge of the panel to stick it to the top edge of the long fuselage side sheet from F-4 to F-7. I want that balsa sheet skin section glued firmly along that joint so I can depend on it not to move or slip when I bend the rest of it into shape around the formers.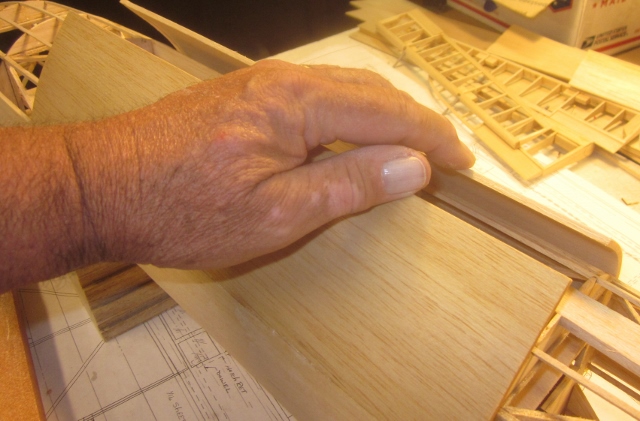 B-17-14-2      This is a practice run. I have edge-glued the opposite top center panel to the fuselage side in just the same way and I'm checking to be sure that when I bend both panels into place they will meet precisely at the top stringer centerline. Remember that "extra bit of width" from B-17-14-1? I would have trimmed it off now if I didn't need it…but I did. Note: before I subjected both panels to the stress of bending I sprayed them with water.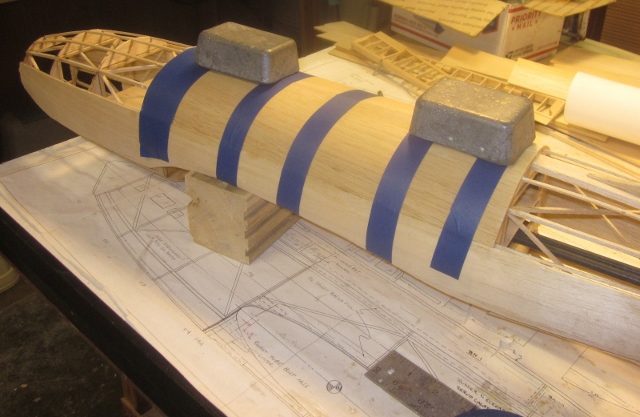 B-17-14-3      All water-sprayed, test-fitted and glued with Deluxe Materials Aliphatic Resin, the two top center panels get pressed and taped and clamped (in this case with weights)…and then left alone to dry thoroughly.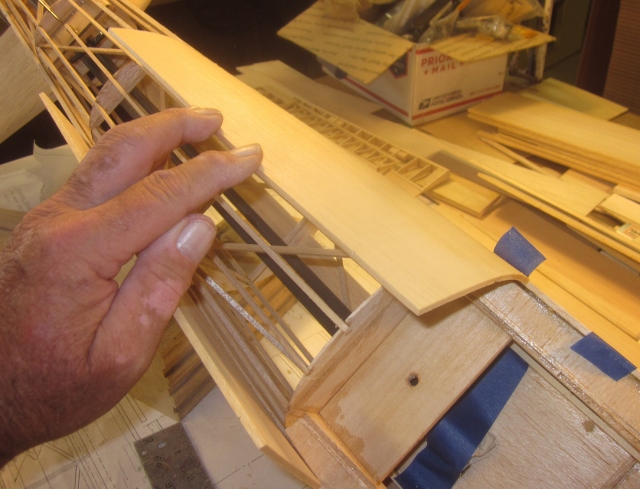 B-17-14-4      Now I'm going to work toward the nose and tail, alternating front-and-rear, top-to-bottom, to keep the bending loads on the still-partially-open structure as even as possible. These two panels have been measured and cut to shape just as I did with those I showed you in step B-17-14-2. Here both of them are already attached along the centerline/side stringers between F-7 and F-9 and water sprayed for bending. I'm checking that they are going to meet neatly at the bottom centerline before I add Deluxe Materials Aliphatic Resin to glue-up the assembly.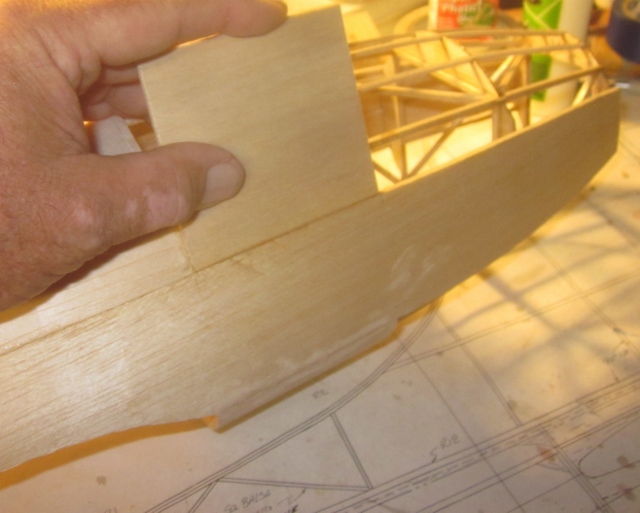 B-17-14-5      I finished that gluing-wrapping-taping job just as I did with previous fuselage sections and went on to the next one…this is the right/top half-panel on the top/front fuselage between F-4 and F-3, already edge-joined along the top of the long side sheet.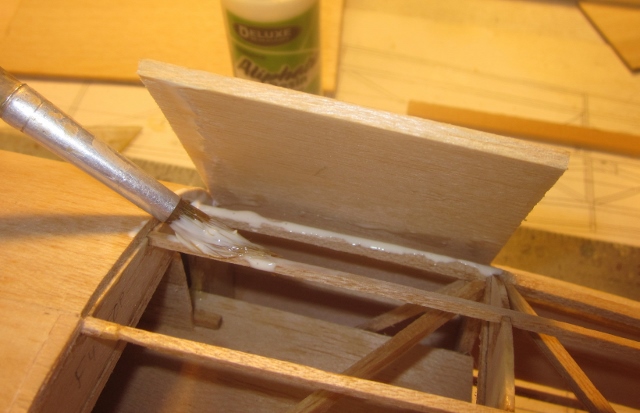 B-17-14-6      And here is the corresponding left half as I use a brush to get a thorough¸ wet application of Aliphatic Resin on every surface that will contact the sheet when I wrap it into place.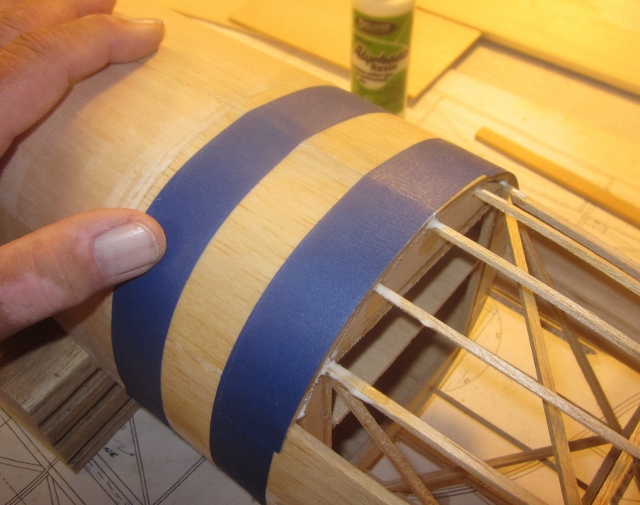 B-17-14-7      That pair of top half-panels looks like this all taped down and already drying.
B-17-14-8      Same game all over again…here I'm working on the top rear deck between F-7 and F-11. I finished closing up the entire fuselage just like this.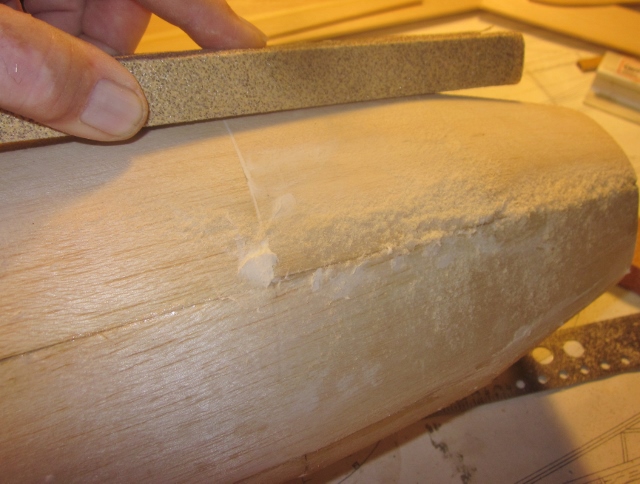 B-17-14-9      With all the balsa sheet in place and dry, and all the tapes removed it's time for one of the parts of this deal that I find "way" rewarding… rough-sanding with a series of blocks to cut away ALL the protrusions, still-squared-off balsa sheet edges and corners and "set free" the smooth flowing curves that define the shape of a B-17. I'm using 80-grit production paper just now. This shot happens to show the top-right portion of the nose as I make a start at the process along the top centerline. See that sanding dust? There's gonna' be a lot more of it around before I'm done. Also, notice all the still-abrupt, rough panel joints in the foreground, waiting for my attention.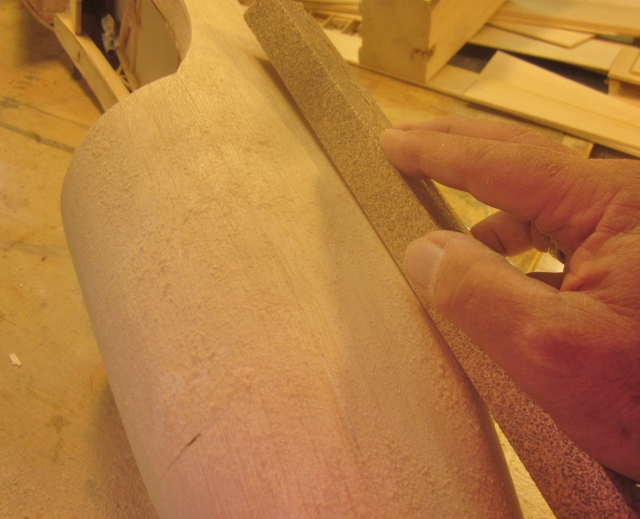 B-17-14-10      Same game with a 100-grit block on the fuselage top at F-4 (above the wing leading edge station). Here I have done the rough shaping and I am progressing to a finer grit to start getting the shaped surfaces smoother.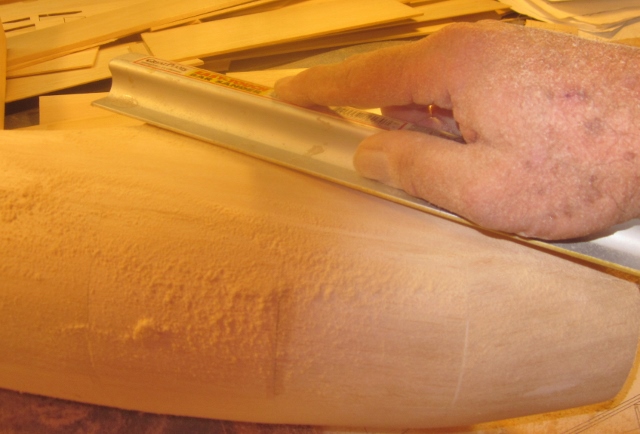 B-17-14-11      And more of that… Now I'm using fine (320-grit) paper on one of those aluminum sanding bars to achieve a really smooth surface on the fuselage bottom.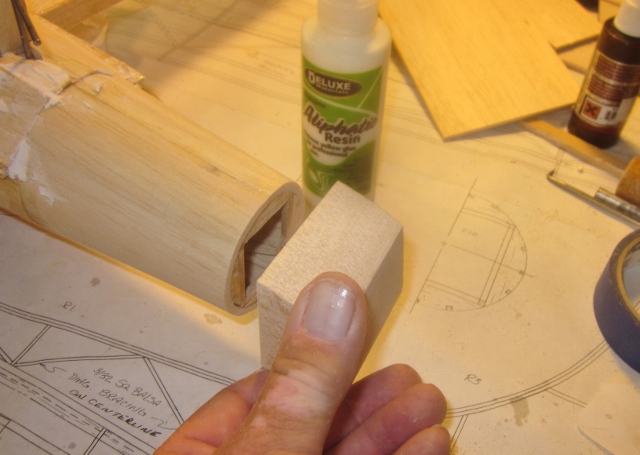 B-17-14-12      With all the balsa sheet fuselage outer surface (that exists so far) shaped and fine-sanded, I can go ahead and add the rough-carved balsa block that I will finish-shape in place to create the aft tail gun fairing. You can see the Deluxe Materials Aliphatic Resin I'm going to use.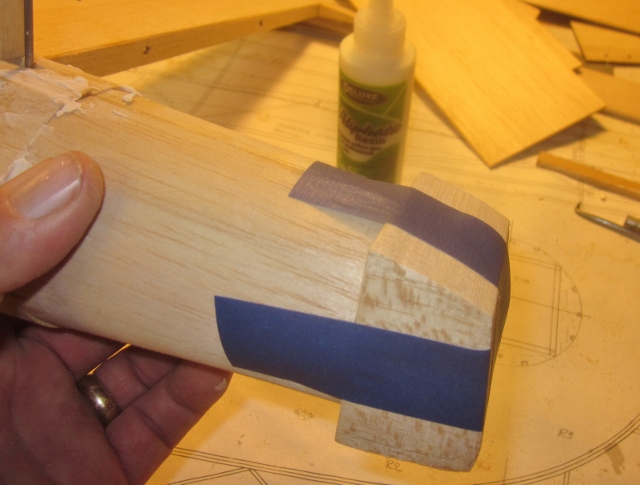 B-17-14-13      All glued up and taped firmly in place, the gun fairing will get the usual chance to dry completely before I do any shaping or finishing.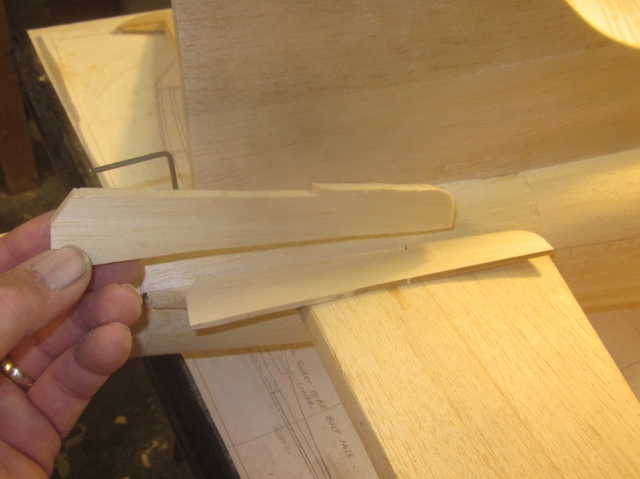 B-17-14-14      Next come the sides of the tail gunner's station. NOTE: This structure is too narrow as represented on the kit plan. I used my scale reference drawings to determine that replacing the kit parts with these thicker (1/4" balsa sheet) duplicates would move the outer /side faces of the assembly "out" to a close match to the scale location.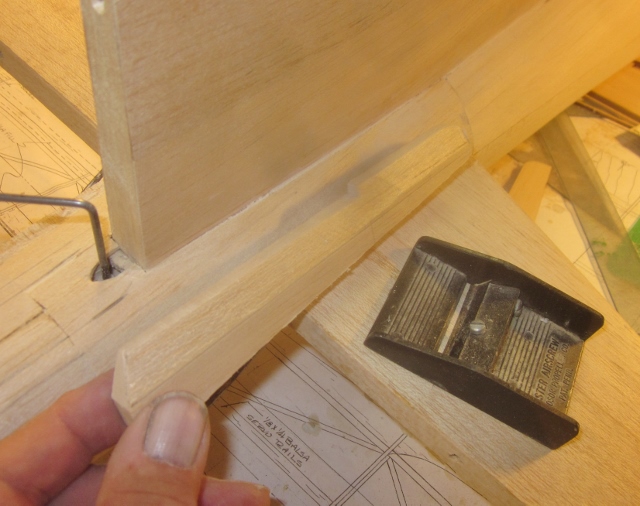 B-17-14-15      This is the right hand tail gunner's position side panel tapered to fit the curvature of the fuselage side it's going to be attached to. I used this Master Airscrew balsa block plane to cut in that shape. Note that this side panel as you see it now is upside-down…I'm going to rotate it 180 degrees counter-clockwise to fit neatly against the vertical tail fin base and tailcone skin.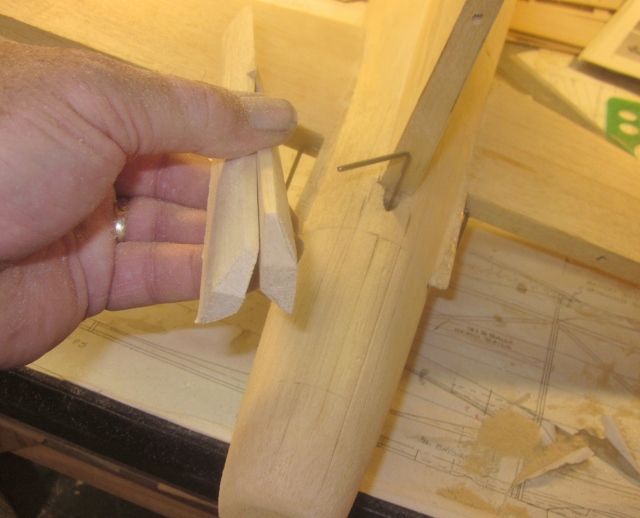 B-17-14-16      Both tail gunner enclosure sides look like this cut to shape and tapered to fit…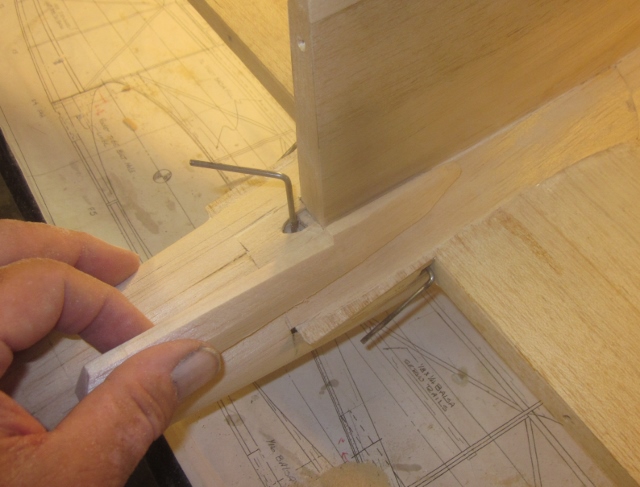 B-17-14-17      and hand-held in place the right side panel looks like this.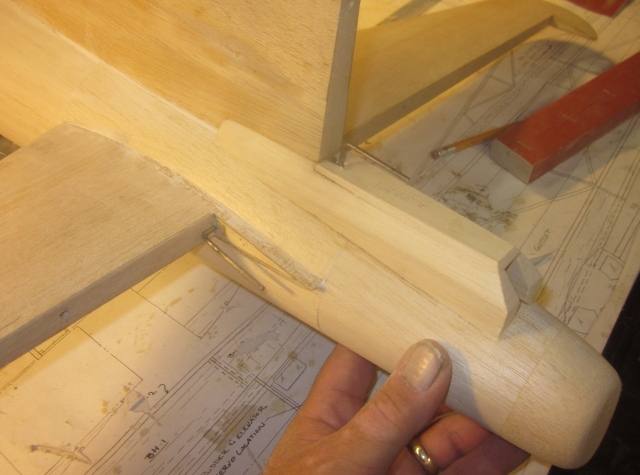 B-17-14-18      All fitted and glued the two side panels and rear upper deck of the tail gunner's position look like this. I still have to add the several smaller pieces that will comprise the rear face/sighting window.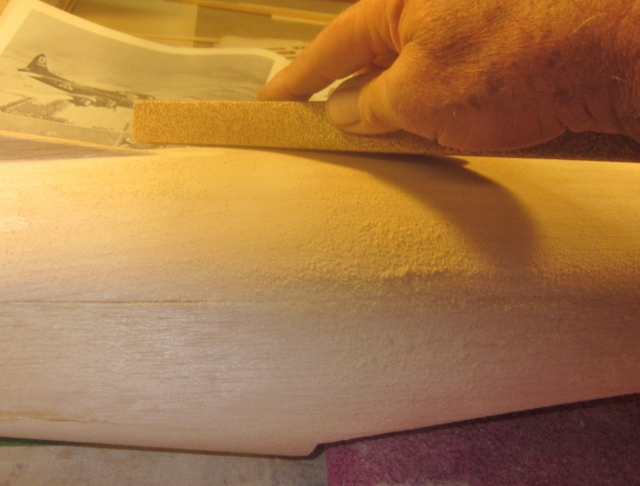 B-17-14-19      I included this image as a reminder that there is nearly always more sanding you can do. While I was moving the fuselage around during the tail gun position assembly I noticed several "discontinuities" (mistakes) on the top skin above the wing trailing edge station. What you DO about this is what I'm doing here…go back and get it right.
B-17-14-20      A glimpse of things to come…I have dry-fitted the rudder in place on its hinges to check the clearances with the tail gun position AND to sneak a peek at what my finished B-17 is going to look like.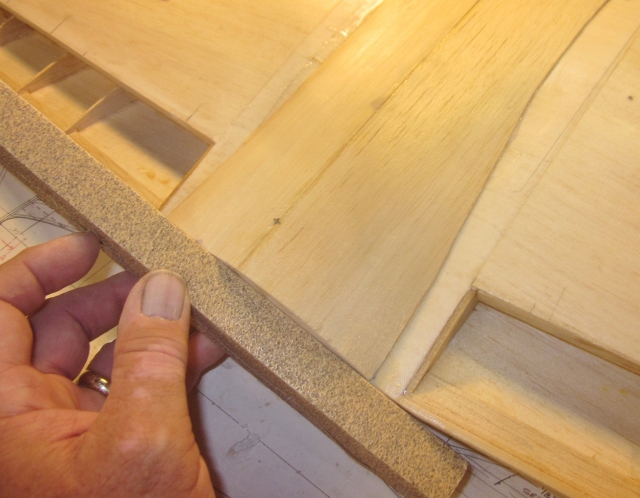 B-17-14-21      A while ago (was it hours, days, weeks? I'm not telling) I finished closing in/sheeting the lower wing center section to form the structure that fills out the bottom fuselage cross section between former stations F-4 and F-7. The last time we saw it, this structure was roughly shaped to fit the wing saddle cutout in the fuselage. This is where we get to work some more on creating a really precise fit. I'm starting by using my coarse (80-grit) sanding block to "face-off" the lower auxiliary F-7 section so it will slip neatly in place against its fixed F-7 counterpart that's part of the fuselage structure. (I went on to do the same with F-4 at the leading edge.)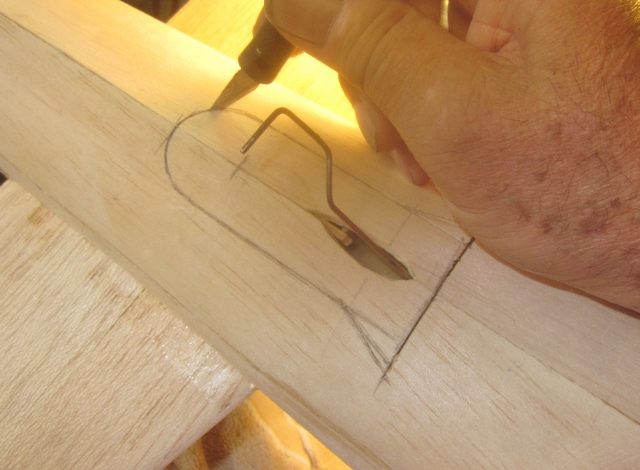 B-17-14-22      This step is a "by-the-way"… Back when I closed in the bottom surface of the fuselage with 1/8" balsa sheet I made the smallest practical opening around the protruding strut. The information I need to transfer the correct tailwheel assembly opening shape was always right there on my scale reference drawings, but I've waited until now…with a real reference surface to draw it out on…to do that. Here I'm using a No. 11 blade to cut the opening along my pencil-line pattern.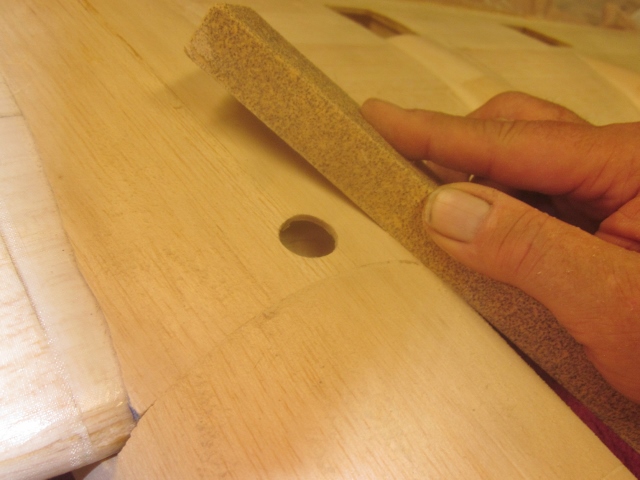 B-17-14-23       Back to the wing center section. Earlier I built in the mounting structure for the two ¼" x 24 nylon screws that hold the wing in place. Here I have installed both screws and tightened them enough to draw the wing snugly into place. (You can't see the screw heads…I'll deal with those rough/open access holes later). Right now it's time to begin blending the fairing into the main fuselage structure. I'm starting to sand away excess 1/8" balsa sheet using my coarse (80-grit) block. NOTE: The balsa skin on the fuselage…to the right and below in this picture…is already finished to the shape I want it to be. The trick here is to control the sanding block well enough that I cut away balsa from the center section …at the upper left… ONLY until it matches what's already there.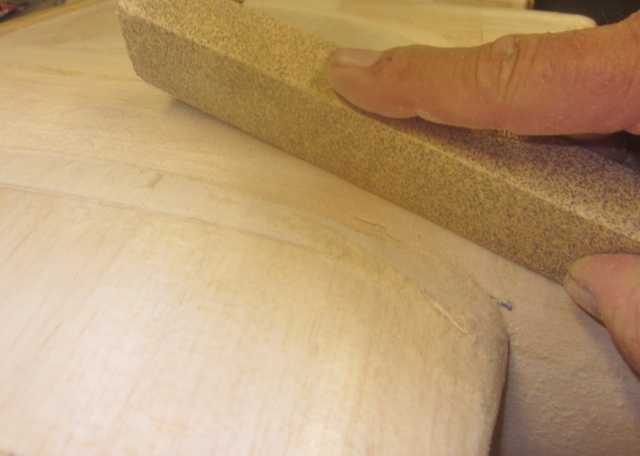 B-17-14-24      More of the same around the leading edge/corner of the wing-to-fuselage junction. A skilled model builder develops a "feel" for jobs like this. The way you get it is through PRACTICE. In this particular case I sanded "just barely" through the 1/8" balsa sheet on the fairing where it blends into the wing skin. This happened because I didn't get the fairing skin "bottomed" against the wing skin well enough AND because I sanded this spot too aggressively.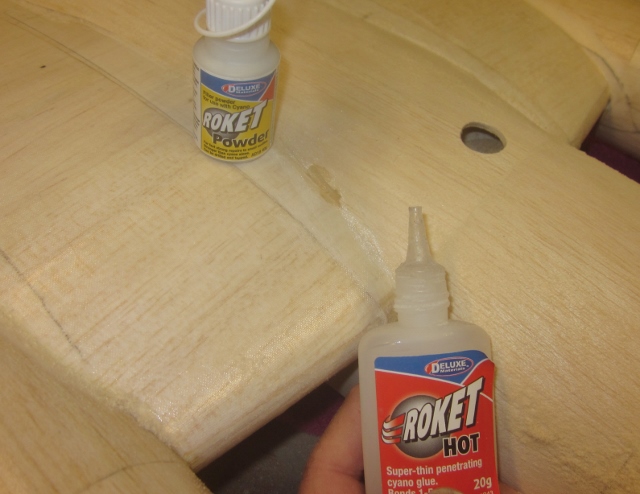 B-17-14-25      To fix it I could cut out the compromised section, glue in a thick balsa sheet patch and re-sand OR I can use Deluxe Materials Roket Powder to build up a small "fill-in" that's going to be strong enough to sand smooth and correct the error.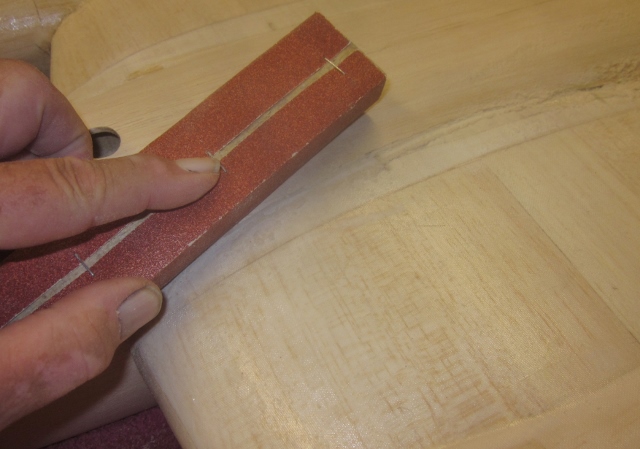 B-17-14-26      Here I'm working on the opposite side where I managed not to "sand through". This is another example of one of those places when it is up to you to determine what the contour/shape of the airplane structure is supposed to look like and then get it right.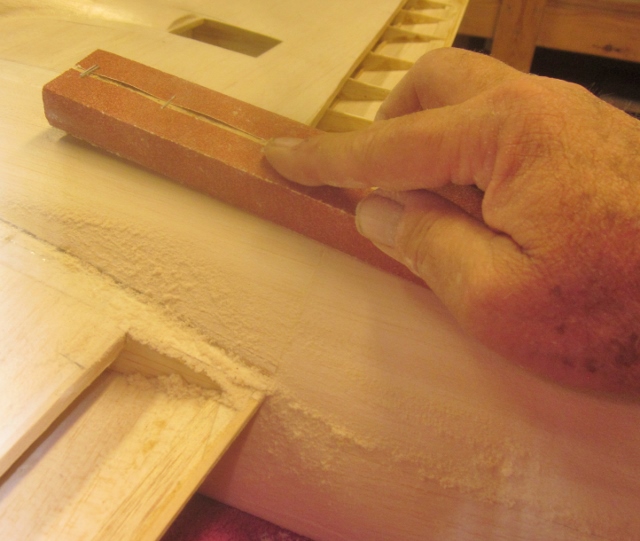 B-17-14-27      Back at the tailing edge I'm doing more of the same. When the sanding block is carefully held parallel to the working surface and the abrasive begins to take equal amounts of balsa off each side of the joint, you've got it right. At this point the "calibrated fingertip" test should not be able to detect any bump or "ledge" where the parts join.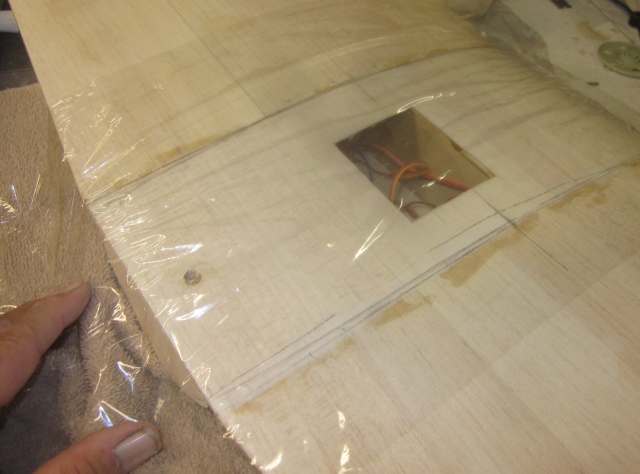 B-17-14-28      With the exterior surface (skin) of the wing-to-fuselage junction shaped exactly the way I want it to be, it's time to finish up the "wing saddle" structure where the top wing surface meets the fuselage. Although this is not going to be a load-bearing joint (the wing mounting screws take care of that) it still has to be a load-transferring structure. With that in mind, it is important that it fits well. (A precise wing-to-fuselage joint also happens to LOOK a lot better). I'm going to use Stits Lite Fill lightweight epoxy filler here, and the first step is to protect the wing surface (where I DO NOT want the Lite Fill to adhere) with this sheet of plastic wrap.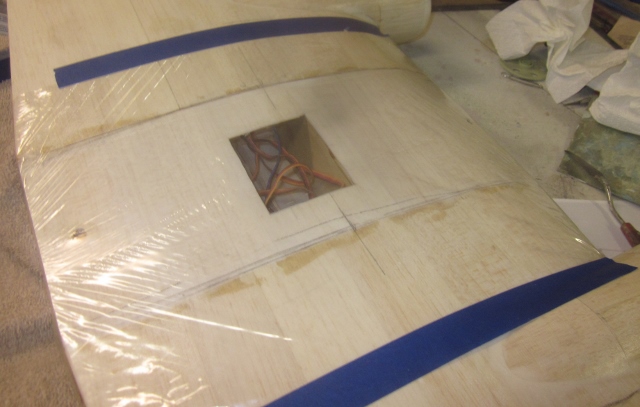 B-17-14-29      To keep the plastic wrap from moving around while I'm concentrating on other stuff I'm using masking tape to hold it in place.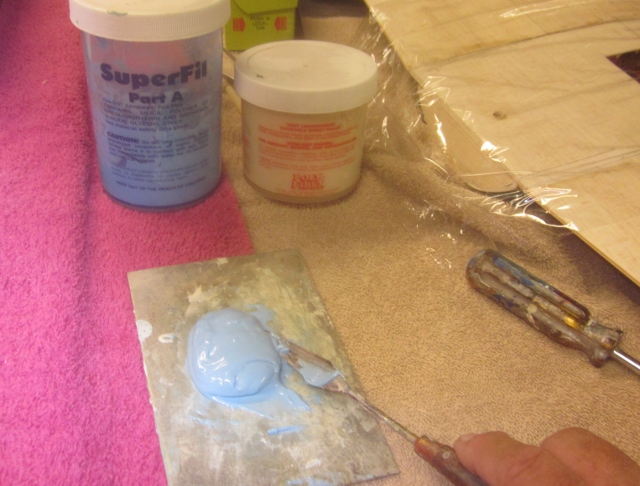 B-17-14-30      The next step is to mix just the right quantity of Lite Fill. You can't "un-mix" this stuff, so it's good idea on a job like this where you have to estimate how much you'll need to start with a small batch and mix more when you've determined how much more you are really going to use.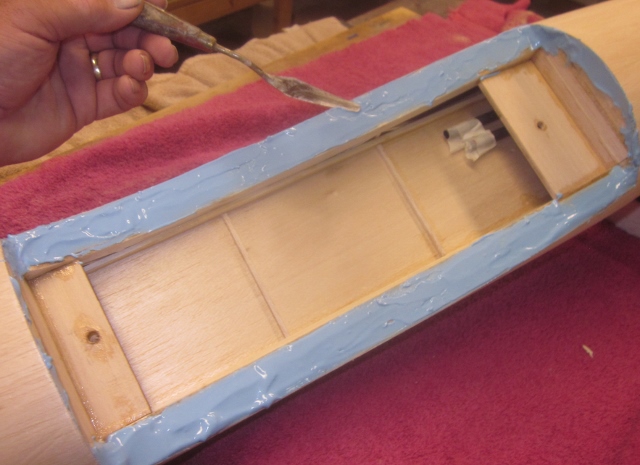 B-17-14-31      That what I did here…Lite Fill allows me half an hour or so of working time, so it was easy to mix up a second batch and "butter" it into place with my old artist's palette knife so both lots of epoxy blend together perfectly along the balsa wing saddle structure. What's going on here is that I am applying the Lite Fill generously enough to be sure that when I set the wing in place and tighten it down…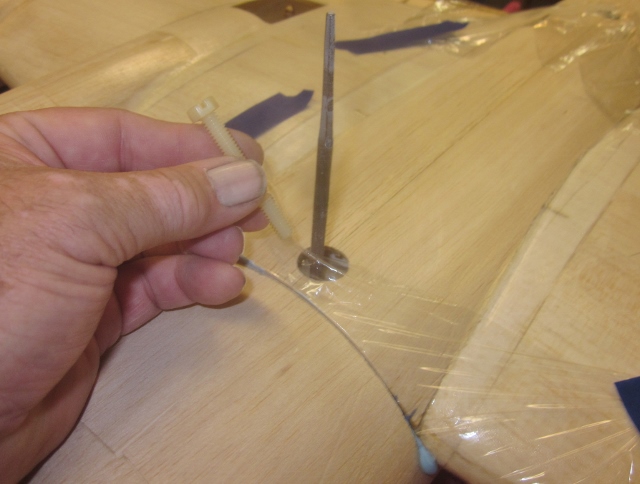 B-17-14 32      …like this…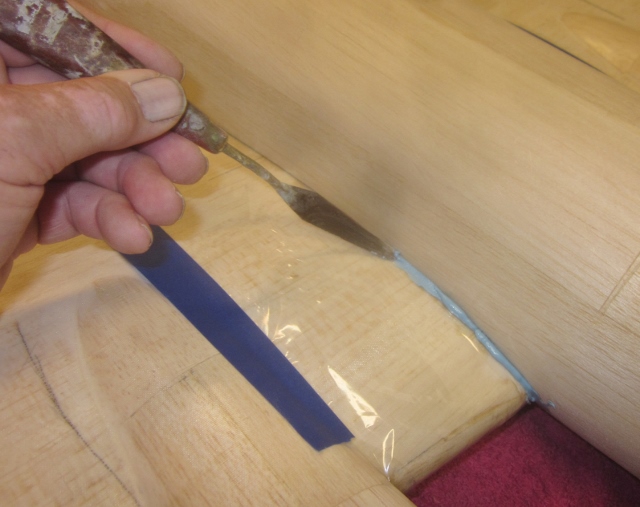 B-17-14-33      I'll get a sufficient "squeeze-out" of Lite Fill to ensure that there won't be any voids or gaps in the finished wing saddle. Look behind my tool…can you see where I DON'T have any squeeze-out of the blue stuff?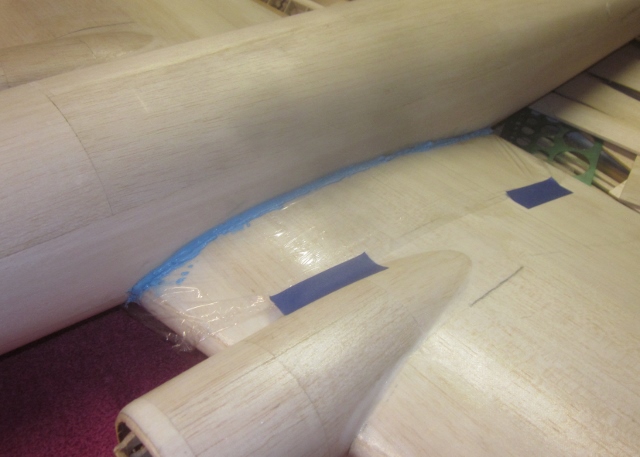 B-17-14-34      I mixed up just a bit more Lite Fill, backed off the wing screws enough to lift the wing about 3/16" and "knifed" the extra filler into the "starved" spaces. When I re-tightened the screws, the joint looked like this.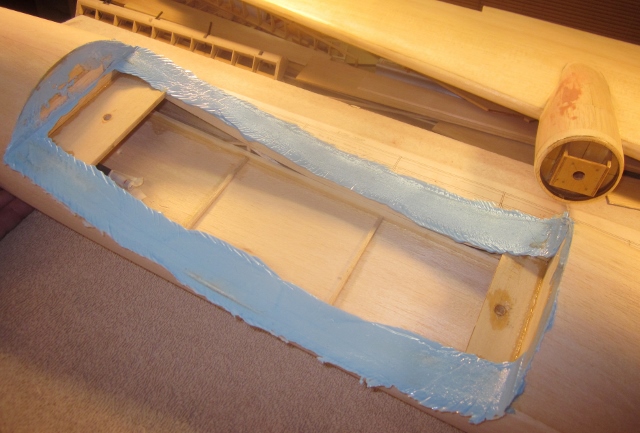 B-17-14-35      Stits Lite Fill is another of those products I prefer to leave overnight to be sure it's properly cured. With that done and the wing (and all that no-longer-needed plastic wrap) removed, the new wing saddle base looks like this.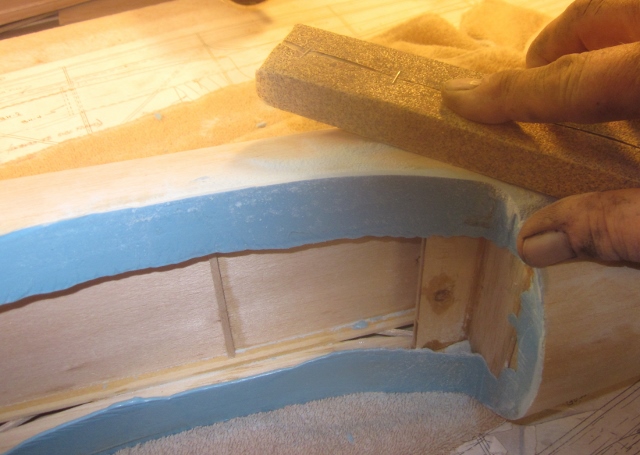 B-17-14-36      The next step is to go back to the sanding blocks to clean up/smooth up those squeezed-out edges. NOTE: On the B-17 there is no wing root fillet at this location so trimming and sanding the Lite Fill off flush with the fuselage skin creates the correct scale contour.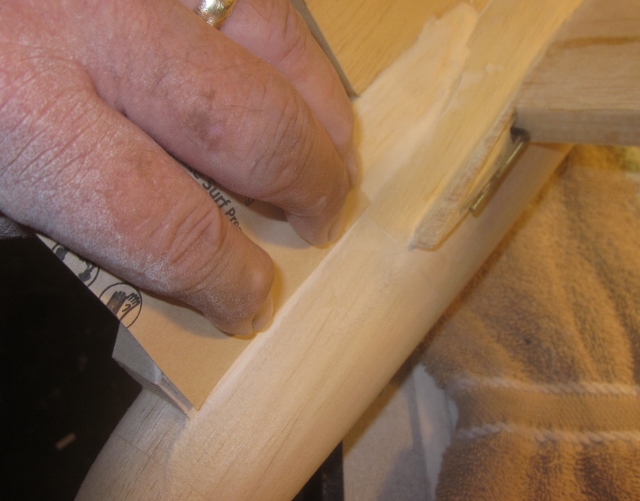 B-17-14-37      More details…I went over the entire fuselage with another application of Deluxe Materials Wonder Fill to deal with any cracks, voids, or dings that managed to slip by me. Here on the tail gunner's enclosure you can see where I'm using the sharp edge of a new piece of 220-grit production paper to define the shallow crease formed by the full scale sheet metal skin where the enclosure meets the tailcone.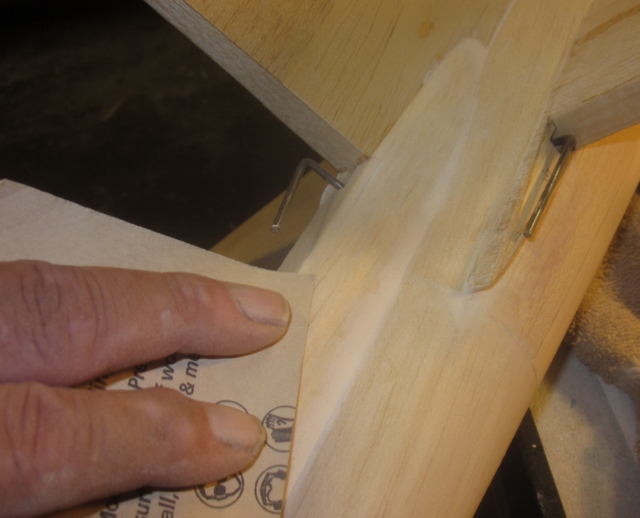 B-17-14-38      All finished, that should look like this…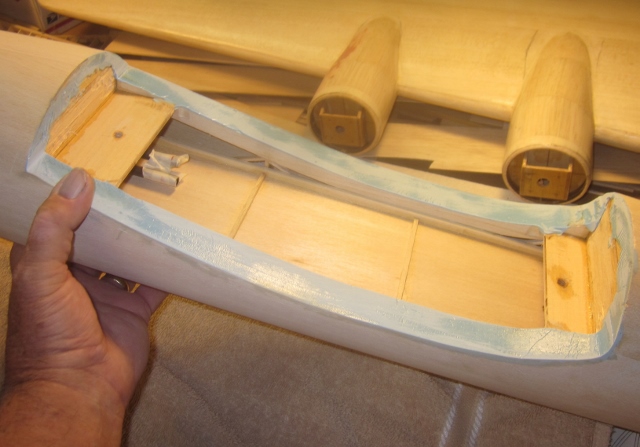 B-17-14-39      and the wing saddle should look like this. My next step will be to use Deluxe Materials Eze-Kote and fiberglass cloth to reinforce all that "raw balsa" structure before I go any further with building. That happens next time.